Is There Any Other Way for The Fire Department to Put Out Fires?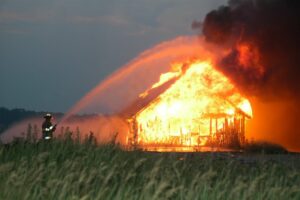 Oxygen, heat, or fuel has to be removed to put out a fire. The most common method of putting out a fire is using water. The water cools down the heat. It also takes away oxygen. Therefore, it's the most common element that is used to put out a fire.
As the holiday season is approaching, and it causes spikes in residential fires, we have put together ways firefighters extinguish fires. We'll also tell you how home restoration companies can repair your house after a fire.
Read on.
Putting Out Fires – Are there Any Other Ways to Do it Without Using Water?
In firefighting training, firefighters learn the science of fire, its components, and ways they can effectively put it out. As said earlier, the most commonly used method to put out fires is to use water because it cools down the heat and removes oxygen.
Most people assume that firefighters alwayse use water to put out fires, thanks to the movies. However, that's not the case at all. Water is for sure an important element firefighters use to extinguish fires, but it's not the only material they use.
Firefighters use aqueous film-forming foam (AFFF) instead of water to put out certain types of fires. The two types of firefighting foams used to put out fire include Class A and Class B.
Class A firefighting foam was developed in the mid-1980s. It lowers the surface tension of the water, which suppresses fire and prevents reignition.It is used to put out fires caused by wood, paper, and brush. Class A firefighting foams are also used to control wildfires.The primary ingredients of the Class A firefighting foams are water, concentrate, and air.
On the other hand, Class B firefighting foams are used on liquid, flammable fires. They repel the carbons forming a film over the liquid to suppresses the vapors. They have also been used for fire suppression and fire training. The Class B firefighting foams are used commercially. The three ingredients it is made with include gasoline, oil, and jet fuel.
In some countries, fires are classified into 6 catergories. However, in the US, they are divided into 5 categories.
Class A fires involve combustible materials like wood, cloth, paper, and standard refuse.
Class B fires carry flammable liquids and gases, such as gasoline and oil-based paints.
Class C fires cover electrical fires caused by wiring, appliances, circuit breakers, and fuse boxes.
Class D fires include Combustible metals such as magnesium, sodium, titanium, and lithium.
Class K fires are the fires that involve combustible cooking materials such as cooking oils. They spread quickly and cause serious injuries and structural damages.
What Is Fire Damage Restoration? When Is the Right Time to Call Home Restoration Experts?
Fire damage restoration is the process of returning a home to its pre-loss condition before the fire. The process of fire and smoke damage restoration includes replacing drywall, installing carpets, painting the home, scrubbing, sandling and refinishing to remove the smoke, airing our moisture, sanitizing materials, and odorizing the house.
Because fire damage restoration is an elongated and complex procedure, it can last for a few weeks to up to 7 months at most. After calling the insurance agent, make sure to call the home restoration experts to inspect the property and determine the level of damage.
It's not safe to sleep in the house after a fire. Even if one room of the house contained fire, it takes no time for the smoke particles to spread throughout the house. So, the fire damage restoration experts might not allow you to re-enter the property. It's not recommended to sleep in your house even after a small fire.
The smoke leaves behind dangerous chemicals that are not safe to be exposed to. Smoke damage is a major health risk that can cause common issues like a runny nose and severe illnesses like heart problems and lung diseases.
The goal of fire damage restoration experts is to help you get back on your feet after a fire. They remove smoke, soot, and odors from the house. They also tell you how the fire was caused and how you can prevent it in the future.
Many times, when firefighters use water to put out a fire, the property experiences water damage. Water damage can be extremely alarming because it causes further structural damage to the house and increases the chances of mold formation. If that happens, you'll have to hire home restoration professionals for fire damage restoration, water damage restoration, and mold removal.
Searching for a Reliable, Dedicated, and Experienced Home Restoration Company in Vancouver?
Over 300,000 residential fires occur in the US every year. Therefore, it's important to know about a trusted home restoration company like 911 Restoration of Vancouver. Whether you need help with fire damage restoration or you feel like that mold has attacked your home, the local home restoration company is available every second of the day to offer consistent support and help.
They have hands-on some of the best and most advanced equipment and tools. This allows them to offer advanced restoration solutions to homeowners. The local home restoration company arrives within 45 minutes of the initial call to prevent further damages and come up with a safe and quick restoration plan.
The fire damage restoration experts are certified by IICRC and have experience in handling different restoration projects. Fire can cause serious structural damage to the house. Therefore, the home restoration experts make sure that it becomes safe for you to re-enter.
Looking for a professional home restoration company? Give 911 Restoration of Vancouver a call.