Water restoration in Vancouver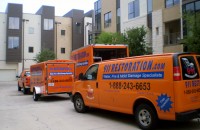 It is generally quite unexpected when you have to deal with water damage inside your home, and this can lead to some frustration in trying to resolve this issue. However, I recommend that you look into licensed professionals for getting water damage restoration, as there is no reason to try to handle this problem on your own. Although I am sure that there are multiple options to choose from in regards to hiring that may seem pretty enticing, you will benefit most from using a company that utilizes the latest drying technology to perform their services.
As you get closer to hiring a professional, you are going to learn about how severe the flooding in your home is, and this is determined through a classification system that ranges from class 1 to class 4. It is usually pretty painless to deal with water damage that falls into class 1, but after that and you are really going to enjoy having an incredible professional to help out with the situation.
I would attempt to hire someone that will be able to provide same day service because dealing with water damage through a leakage or flood inside your home is not an issue that you should procrastinate on. Overall, taking the important details into consideration regarding water damage restoration will ensure that you are able to utilize restoration services to the fullest potential.