Water damage restoration company in Vancouver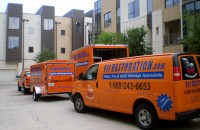 If unexpected water damage occurs to your home, who will you call to repair the problem? How do you know the company you are hiring to complete your repairs are experts in their field and are capable of restoring your property? Most people think a flood or water damage will never happen to them. I believe it is a good idea to be prepared for such a situation to happen because if it does, you will have no time to make a good decision on a reputable water damage restoration company.
Here are some items I think you should keep in mind when choosing a water damage restoration company. You should make sure your company offers same day service and quick response times. They should be equipped with all the latest drying technology and tools for water extractions. They should be able to handle flood cleanup, basement flood cleanup, flood damage in crawl space, sewage cleanup and water heater leaks. They should also be able to restore cabinets, perform wood floor restoration and utilize tools to help carpets dry out.
No matter how water has damaged your house, the water damage restoration company should be able to restore your home very close to its original condition. With the right use of tools and knowledge, it will be like the damage never happened.