High-Rise Fire Safety in Vancouver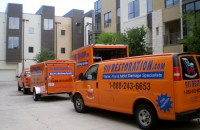 High-rise fire safety is one of the most important things you can consider when you are putting up new buildings that are incredibly tall and large. You might think that you have covered all of the fire safety issues in your new building, but there is a great deal to consider before you can be assured that your building is fully safe.
In the Vancouver area, more and more high-rise buildings are going up and this brings about more safety concerns that building managers and contractors must consider. How will the fire evacuation plan be put together? Is there going to be an easy way for everybody in the building to get to safety? Each of these items has to be thought out before the building can open to the public.
The Evacuation Plan
The evacuation plan for any large building is extremely important, and all tenants must understand the protocol. Leaving this up to the tenants in the building or simply assuming that a generic plan will work is not going to keep everyone safe when a fire or some other disaster occurs
Constructing a fire safety plan that comes complete with maps and diagrams of the whole building is the only way for you to ensure that the building is completely safe in the event of a fire. Likewise, you need to have a fire evacuation plan at your home so that the whole family knows where to go and what to do in the event of a fire. These two types of buildings may be very different, but they both require safety precautions to be taken.
Fire Sprinkles
Fire sprinklers save countless lives every year by raining down fresh water from the ceiling that puts out fires and causes smoke to disperse. While it may not be fun for people to run out of a burning building while the sprinklers are soaking them, the sprinklers are essential and can save lives.
Fire sprinklers, like fire emergency plans, belong in every large commercial building. While the fire sprinklers do cause water damage, they can keep people safe and save the building. The resulting water damage requires professional attention and the road to a full recovery may seem daunting, but this is a much more preferable scenario than more rampant fire damage.
Acidic Smoke
Smoke and soot after a fire is often acidic and corrosive, which means it will continue to damage surfaces and materials long after the fire is put out. Fire restoration professionals can help commercial spaces and modern high-rise buildings recover from acidic smoke and salvage important documents and other items.
While you may be tempted to clean soot damage yourself using traditional cleaners and methods, this is never a good idea. Conventional cleaners can often make things worse and not effectively remove the harmful acids from the surface you are attempting to clean. Professional restoration companies are equipped with the correct chemicals and tools to effectively remove smoke and soot from all kinds of surfaces and belongings.