Sewage Backup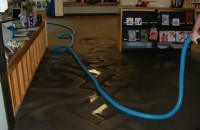 Any type of water damage can prove to be catastrophic for those who are affected. As quickly as possible, it is imperative that homeowners start work on water damage clean up. This is usually effectively handled by a water restoration service, as they are typically much better able to successfully perform water restoration than individuals who are attempting water damage removal on their own. Water damage restoration must be done properly in order to make the home safe after restoration efforts have concluded.
While water damage of any type causes a great deal of damage, that which is caused by backed up sewage is even worse. The water is filthy and it is teeming with bacteria that can cause serious health concerns. Therefore, a professional water restoration service should be utilized in order to properly clean up the mess. These companies are trained in various types of water damage restoration and are able to perform water damage clean up in such a way that the possibility of experiencing complications later on are minimized.
Water damage removal must not only be performed as quickly as possible after an incident has occurred, but it also must be performed correctly with as much attention to detail as possible. Water restoration companies are experts at restoring damaged homes, regardless of the type of water damage that has occurred. Therefore, they are able to successfully restore a home that has been damaged by sewage backup. It is vitally important that homeowners understand the severity of water damage caused by a backed up sewer. Time is of the essence in order to save as much property as possible. Therefore, a successful water restoration company should be contacted immediately thereafter if at all possible. This is an essential step in protecting a home from the damage caused by sewer system failures.