Creating a Water Leak Checklist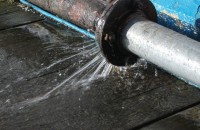 I've had water leak problems in my home before, and I know what a pain they can be. However, I have come up with a way to make sure that I don't miss water leaks in the future. I have a water leak checklist that I keep handy in the house. It gets checked at least once a week, and this checklist helps us know exactly what is going on in our house and avoid water damage.
You should build a checklist too, because you do not want a leaky shower head to turn into a full-on flood just because you didn't take the time to run through the checklist.
#1: The Appliances
We never truly considered how many appliances in the house use water until we decided to make a checklist. We have a refrigerator, dishwasher, washing machine, freezer, another freezer in the garage, and a filtered water dispenser in the kitchen. Each one of these appliances are checked once a week.
Make sure the water hoses are dry. I reach underneath the sink to check the hoses on the filtered water spigot, and I look behind the washing machine to make sure the water hoses are attached properly. The only appliance we cannot check is the dishwasher. However, we've learned that the dishwasher will shut itself off if there is a leak. Whenever your dishwasher starts beeping and calling for a service technician, it's because of a leak.
#2: The Water Heater
I didn't add the water heater to the appliances list because we have first-hand experience with a faulty water heater. If you see rust on your water heater, you need to make sure that you get the heater looked at immediately. If you see any kind of moisture on the floor beneath or around the water heater, you need to get it repaired immediately. We went on vacation once, and my in-laws came to check on the cats. They found the entire garage flooded because the water heater rusted through. If we had checked the water heater regularly, we could have avoided that problem.
#3: The Toilets
We make sure to check behind our toilets because no one ever looks there. We can see what is happening on the front of the toilet, but a quick check in the back will reveal leaks.
#4: Outside
We don't use sprinklers, but we would check them if we did. We also have outdoor spigots that must be checked regularly. I usually walks the perimeter of the house every week to see if there are problems.
We have this water leak checklist on-hand because small water leaks can lead to big repairs if they go unnoticed. Also, water will lead very quickly to mold and may necessitate professional mold remediation to be removed safely. Even though it's impossible to guarantee that you will never have a leak, taking the time to go through the checklist will be a big help and reduce the risk of a problem getting out of hand.