Water damage restoration company in Canada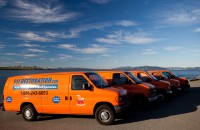 When your home or business is damaged by storms, rain leaks, floods, or plumbing leaks (toilet overflow, washer burst, water heater leaks, etc.), you need a professional, honest, and affordable water damage restoration service that can assess the water damage and provide more than just water extractions. You want to use a service that has the latest drying technology to dry out your carpets and also one that will clean up sewage if necessary and even provide wood floor and cabinet restoration. Try to find a company that provides same day service since the entire drying, sanitizing, and restoration process will often take several days if a large area has been affected, like your basement, for example.
In tough economic times, some people try to perform water extractions and restoration without hiring a professional company, thinking it will save them money, but in the long run, it is best to hire a licensed professional to perform water cleanup because of the rigorous and thorough procedures they are trained to use as well as the equipment they have access to. That being said, when choosing a company to assist you with water damage restoration, ask yourself questions like, How long has the company been in business? How modern is their equipment? Are their personnel qualified to be working in my home?