Water Damage Restorationi in Richmond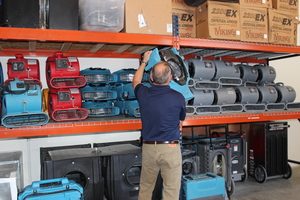 It's true that being a property owner in Richmond offers a lot of benefits and can be rewarding in many ways. That being said, it also comes with a lot of responsibility. While responsibility comes in many forms, the most prevalent is the one that requires you to stay on top of property damage. Damage of any kind wears the property down to disrepair, and no other type of damage is as destructive and common as water damage. Water damage can strike as a ceiling leak over time or be immediate like with a pipe burst. Either way, the end result is the need for professional water damage restoration services. That's why our IICRC certified technicians are ready 24/7/365 to begin on any mould remediation or water damage restoration needed by our Richmond customers. Whether you live in Richmond, West Vancouver, North Burnaby, or another city in the Vancouver area, we promise to arrive within 45 minutes ready to get started on your water damage restoration. Give us a call at 778-665-0490 and allow us to provide you with a free visual inspection.

Mould only needs as little as 24 hours to start growing when water damage exists on the property. The more you wait to handle your water damage, the more you run the risk of needing additional mould removal services. For this reason, you are likely to avoid this complication if you begin your water damage restoration promptly with trained IICRC certified technicians.
Call 911 Restoration immediately if you find yourself needing mould remediation or water damage restoration services. Our technicians are trained and prepared to handle anything from mould inspection to flood cleanup. Call today to get the Fresh Start you need to begin anew in Richmond and surrounding Vancouver area.
Water Damage Restoration
With water damage restoration, the response needs to be fast, but it also needs to be comprehensive and handled with the right timing. A failure to properly handle your restoration can leave greater problems to take care of a couple of months later. At 911 Restoration, our IICRC certified technicians understand this, which is why they have honed their process to perfection thanks to years of experience and ongoing training. We are uniquely qualified to handle everything during your water damage restoration from flood cleanup to pipe burst repairs.
For our technicians, a successful restoration begins with our visual inspection. The visual inspection is necessary for us to understand the extent of the water damage, what the mould situation is, and what repairs are necessary to get the property back to good as new. As soon as the inspection is finished, we can get started on our water extraction and drying process. This step is accomplished with our use of the latest water extraction equipment and commercial dryers to completely dry the property out.
As soon as you suspect mould or notice water damage, call 911 Restoration promptly at 778-665-0490. We'll show up within 45 minutes to get started on your mould remediation and water damage restoration. Don't delay in getting the Fresh Start you need to start over in Richmond.
Flood Damage Restoration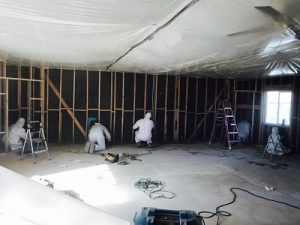 Flood damage restoration is a process that's reserved for excessively high water levels. Flooding can occur for a number of reasons, but the sprinklers and pipe bursts are the most common ones. That's why a flooded basement or living room is so likely when it comes to flood events. Pipes often have contaminants, which is why flood cleanup is necessary. These extra materials may simply be some dirt, but can also be raw waste depending on the type of pipe compromised. In order to keep our Richmond customers healthy, we act quickly and with purpose during flood cleanup.
That's why our first step during flood cleanup is to perform our combination of decontamination and mould decontamination. With this step, we're able to neutralize every trace of bacteria and mould on the property. After this step is complete, we're ready to begin our water extraction and drying process. During this process, we also identify and address any needed repairs to get the property back to good as new for our Richmond customers.
Call 911 Restoration at 778-665-0490 as soon as you need emergency restoration services. Get the Fresh Start you need to move forward in Richmond.
Servicing the cities of Abbotsford, Aldergrove, Arbutus Ridge, Burnaby, Cloverdale, Coal Harbour, Coquitlam, Deep Cove, Delta, Downtown, East Bay, East Side, East Vancouver, Gastown, Kerrisdale, Kitsilano, Ladner, Langley, Maple Ridge, Marpole, Mitchell Island, Mt Pleasant, New Westminster, Newton, North Burnaby, North Vancouver, Point Grey, Port Coquitlam, Port Moody, Richmond, Santa Paula, Shaughnessy, South Vancouver, Steveston, Sunset, Surrey, Tsawwassen, Vancouver, West Point Grey, West Vancouver, Westchester, Westham Island, White Rock, Yaletown, and surrounding areas.