Water Damage Restoration in Kerrisdale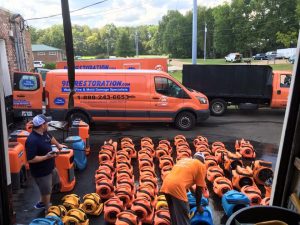 As a property owner in Kerrisdale, you're more than aware of the potential for property damage. You have to be on guard and prepared at all times thanks to its ability to strike at any time and occur in multiple forms. While some types of damage are uncommon, water damage is actually extremely common. The reason for this is because of the numerous ways water damage can occur. Anything from a ruptured appliance hose to a full pipe burst can be a reason for owners needing professional water damage restoration services. That's why our IICRC certified technicians are ready 24/7/365 to begin on any mould remediation or water damage restoration needed by our Kerrisdale customers. Whether you live in Kerrisdale, White Rock, East Vancouver, or another city in the Vancouver area, we promise to arrive in 45 minutes ready to get started on your water damage restoration.
It only takes water damage being around for 24 hours to begin producing mould. For each bit of time, the water damage is left alone, the more the mould spreads throughout the property. This will result in you needing additional mould removal services beyond water damage restoration. Fortunately, you can minimize your chances of needing this service by getting your water damage restoration started promptly and with IICRC certified technicians.
Call 911 Restoration if you find yourself needing mould remediation or water damage restoration services. Our technicians are ready to assist you with everything from mould inspection to flood cleanup. Call today to get the Fresh Start you need to start over in Kerrisdale and surrounding Vancouver area.
Water Damage Restoration
The key to a successful water damage restoration is not the speed that it's completed with. Actually, it's how complete and comprehensive the job is performed. The reason for this is because water damage is complex. You know that the affected area is wet, but are you responding quick enough before mould starts growing? Can you tell if any repairs are needed? These are just a couple of examples of why it's best to work with professionals in this matter. Our IICRC certified technicians have developed a flawless water damage restoration process thanks to years of experience and ongoing training.
The first thing we do before we even unpack our equipment, is start with a visual inspection. This step is the key to our success because it's how we come to understand how extensive the water damage is, what mould is present, and the repairs needed to get back to good as new. After the inspection is finished, we can safely proceed to our water extraction and drying process. This step is performed with the latest water extraction equipment and commercial dryers to make sure the property is completely dried out.
Call 911 Restoration if you notice water damage or suspect a mould infestation. We'll arrive within 45 minutes to get started on your mould remediation and water damage restoration. Don't wait to get the Fresh Start you need to begin anew in Kerrisdale.
Flood Damage Restoration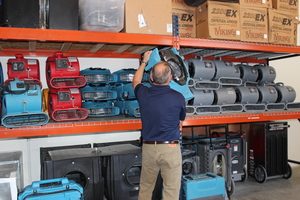 The most common source of flooding is a pipe burst followed by the activation of a sprinkler system. That's why a flooded basement, attic, or kitchen is so common for property owners. The only successful way to resolve this concern is through professional flood cleanup. Flood cleanup is a modified approach to water damage restoration. The reason for this modification is because of the additional materials such as dirt or raw waste present in the floodwater. These extra materials cause a health hazard for our Kerrisdale residents that is unacceptable for our technicians.
For this reason, our first step during flood cleanup is our combination of decontamination and mould decontamination. This step is the key to neutralizing any bacteria or mould present on the premises. After this step is completed, we can start on our water extraction and drying process. During this period, we take the time to perform any necessary repairs to get the property back to good as new.
Call 911 Restoration as soon as you need emergency restoration services. Get the Fresh Start you need to move forward in Kerrisdale.
Servicing the cities of Abbotsford, Aldergrove, Arbutus Ridge, Burnaby, Cloverdale, Coal Harbour, Coquitlam, Deep Cove, Delta, Downtown, East Bay, East Side, East Vancouver, Gastown, Kerrisdale, Kitsilano, Ladner, Langley, Maple Ridge, Marpole, Mitchell Island, Mt Pleasant, New Westminster, Newton, North Burnaby, North Vancouver, Point Grey, Port Coquitlam, Port Moody, Richmond, Santa Paula, Shaughnessy, South Vancouver, Steveston, Sunset, Surrey, Tsawwassen, Vancouver, West Point Grey, West Vancouver, Westchester, Westham Island, White Rock, Yaletown, and surrounding areas.