Water Damage and Mould Removal Burnaby
The best way for you to avoid mould growth within your home is by having water damage repaired right away, and our water damage Burnaby team at 911 Restoration of Vancouver can do just that.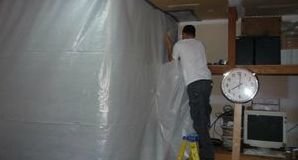 Our mould removal Burnaby experts at understand everything there is to know about mould, most importantly that it only takes a small amount of moisture and a day's worth of hours to start a fungal infestation.
Our water damage experts in Burnaby wants homeowners to know that it is possible for mould to be growing in your property without ever knowing it, especially after water damage has affected the home, which is why our water damage Burnaby team responds within 45 minutes for water-related issues. Give us a call at 778-665-0490 and allow us to offer you a free visual inspection.

Our water damage Burnaby staff works with IICRC certified technicians in order to implement comprehensive water damage and mould removal services, such as:
Comprehensive

mould

cleanup and water damage restoration in Burnaby
Crawlspace and subfloor cleanup
Washing machine ruptured hose repair
Water heater explosion cleanup
Mould infestation removal
Sanitization and decontamination after sewage backup
Leaky plumbing system repair
Pipe burst repair and cleanup
Faulty fire sprinkler repair
Replacement of soaked drywall

Water extraction and drying services
If you have a leak in home or business, then our mould removal Burnaby technicians want you to know that there is a good chance that you also have mould, which means that you need fast remediation services from our water damage Burnaby agents who are available 24/7/365 at 778-665-0490.
Our water damage Burnaby pros will conduct a free visual mould inspection to see if you are living with fungi and mildew. It is important to act fast in situations involving mould, which is why our mould removal Burnaby technicians make sure to be standing by around the clock to take your calls and schedule an appointment with us. 
Our water damage Burnaby agents will provide you with high quality fungi and mildew restoration work through the use of state of the art technology. Through our immediate action your home can back to shape in no time, so call our mould removal Burnaby specialists today at 778-665-0490 and we will provide you with a free visual mould inspection to get the process started.
You Can Be Sure We Provide Safe Mould Removal Services
Our water damage Burnaby pros want homeowner to be aware that they should never attempt to clean up mould on their own for multiple reasons.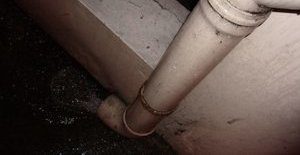 When our mould removal Burnaby crew arrive to the scene, we will cover the mould-stricken areas of your home with an antibacterial plastic that will help us cleanup the mould effectively.
If the job is not done correctly, the mould can move around the home and cause infestations in other parts of the household and you can not know what type of fungus you are dealing with, and by exposing your self to a potentially toxic substance, you may put yourself at risk of experiencing health issues.
Our water damage Burnaby unit will also create an enclosed air system that will help prevent mould spores from spreading throughout your home by setting up vapor barriers and using air purifiers, air movers and dehumidifiers.
Our mould removal Burnaby operation also always wear hazmat suits as they work to protect ourselves, as well as protecting the environment by using eco-friendly cleaning solutions. We're licensed, insured, and bonded to offer you thorough and reliable mould removal services that will give your home a fresh start, so call our water damage Burnaby workers today!
We Put Our Customers Before Mould In Every Situation
It is important to us that our customers feel at ease once our mould removal Burnaby members are on the scene. Our water damage Burnaby techs know how overwhelming it can be to find out that there is a potentially toxic substance in your home, and we want to dispel any concerns you may have.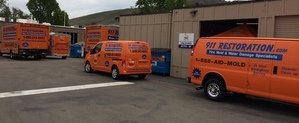 By providing you with around the clock customer service, our mould removal Burnaby experts hope to give you that sense of security throughout the mitigation process.
Not only can we reassure you that you are getting the most competent workers restoring your home, but you will be receiving knowledgable service agents that can also offer you financial assistance.
Even though it is not common for homeowner's insurance to cover mould growth, when you work with our mould damage Burnaby professionals, you can rest assured that you are getting the most affordable services in the area.
Mould mitigation can be a very laborious process, depending on the extent of the infestation.  Although we work hard and fast, our water damage Burnaby professionals also need to be thorough, so you can expect to see a lot of the mould removal Burnaby techs once we begin restoring your property.
Our mould remediation specialist in Burnaby wants you to think of us as family when we are on the job, a family that is incredibly knowledgeable about mould. You can feel comfortable asking our water damage Burnaby staff anything, at any time, and you can be sure that we will respond with the best of our ability.
Call our water damage Burnaby team with 911 Restoration Vancouver and we will give you, your home, or your office the fresh start you deserve today! Our number is 778-665-0490.