Mould Removal Newton
When faced with mould growing in your attic, you need to call the mould removal Newton experts at 911 Restoration of Vancouver to quickly and safely eradicate every trace of the fungus from the premises.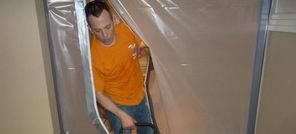 As pressing as this matter may be, it is important to stay calm and simply call our service representative to get the most exceptional mould, fungus and mildew cleanup services in the industry.
We are available 24/7/365 to take your call ad schedule an appointment with our mould removal Newton professionals as soon as they next day.
Once we are on the scene we will provide you with a visual mould inspection, enabling us to find the source of the mould growth.
If water damage happens to be the cause of the infestation, we will tackle both issues using comprehensive equipment. Where there is unmitigated water issues, there is usually mould, so by removing both, we hope to prevent future mould growth to occur.
We are IICRC certified to serve you, so call our mould removal Newton team today and we will provide you with the most thorough and efficient care in the industry.
We Know All The Ins And Outs Of Mould, Fungus And Mildew
Our mould removal Newton techs understand the unique relationship between mould and water. Usually, where there is stagnant moisture, there is also mould, and we know how to take care of both.
When we locate the source of the mould growth we will use top of the line techniques to thoroughly remove all traces of the substance from your household, such as:
Water damage restoration
Thorough drying techniques
Air filters and purifiers
Our system includes repairing any water damage that is causing the mould growth. This way we are confident that when we leave your home the fungus will not grow back due to any neglect by our mould removal Newton experts.
Call us when you need efficient fungus damage restoration and our mould removal Newton professionals will do whatever it takes to get your home clean again.
We Are Qualified To Handle Your Mould Cleanup Job
When you hire an expert to do a fungal infestation remediation, you need to know that you are dealing with a company you can trust.

Our mould removal Newton team are the company that you can be  absolutely confident in their services.
Our entire operation is licensed, bonded and insured in order to protect you from anything that may pop up during the restoration process.
We know that fungal eradication can be very expensive, costing anywhere from hundreds dollars to tens of thousands of dollars. So, when you hire our mould removal Newton staff you can always rely on us for affordable prices. We even work with all insurance companies if your policy covers mould.
Call our mould removal Newton technicians at 911 Restoration of Vancouver and we will get your home free of all mould as soon as we can.