Mould Removal New Westminster
When an unnoticed leak causes damage under your sink, it may cause mould to begin to grow, which is why you should call our mould removal New Westminster professionals at 911 Restora tion of Vancouver to properly remove all mould, fungus and mildew.
Water in the home is usually the best way to get mould to infest the area, and our IICRC certified mould removal New Westminster team is trained to remediate every cause of water damage, such as:
Water Heater Explosions
Ice Machine Malfunction Leak
Roof and Ceiling Leak

Washing Machine Leakage
Our representatives are available 24/7/365 to schedule an appointment to get our mould removal New Westminster team to your property, making it possible for you to call us the moment you notice any signs of the mould in your home.
Water damage that is left to sit can cause mould spores to flourish into a mould infestation, so call our mould removal New Westminster staff today and we will provide you with a free visual mould inspection as soon as we arrive on the scene.
It Is Important To Understand How Mould Can Enter Your Home
Our mould removal New Westminster technicians wants homeowners to be aware that mould spores can enter your home through many different ways, like through windows and doors that have been left open or the air conditioning system.
It can travel through the air outside and will even attach itself to your clothing, shoes, bags, and pets, making it easy to be carried indoors and fall into your household.
Mould is able to grow in any spot that contains moisture that was able to find its way inside your property through cracks in the roof, windows, faulty pipes, or in areas that have been affected by flooding in the past.
You can count on our mould removal New Westminster agents to go the extra mile to get your home mould free, so call us today!
Are Fungal Pros Are Qualified To Handle All Aspects Of An Infestation
When you are hiring a professional to conduct a mould cleanup job, you need to make certain that you are dealing with a company who is trained in all areas of mitigation, and our mould removal New Westminster specialists meet that requirement.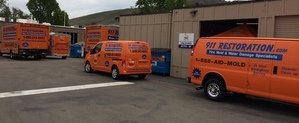 In order to make you confident in our services, our entire operation is licensed, bonded and insured, for your protection.
We want to make you feel as comfortable with us as possible, which is why on top of being exceptionally qualified, we also place an emphasis on customer service.
Along with receiving around the clock care from our dedicated staff, you can also rely on us for affordable prices. We understand that most standard homeowner's insurance policies do not cover mould, so we will do whatever we can to accommodate you.
Call our mould removal New Westminster members at 911 Restoration of Vancouver and we will get you on the path to a fresh start today!