Water Damage West Vancouver, BC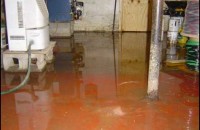 Your home is your safe haven from the elements, and when the elements are introduced within its walls it is crucial to act quickly. Every year, thousands of homes sustain water damage, and the consequences can be devastating. From structural damage to the threat of mould, it is important to act quickly. Whether you have recently had a pipe burst, excessive rain, or a washer burst, our dedicated water damage West Vancouver staff is here to help you perform a quick clean up and drying process to significantly increase your chance of a full recovery.
Experience Combined With the Latest Technology
Many make the mistake of trying to perform water damage control on their own. While the Internet has made many do-it-yourself projects possible, it takes experience and modern tools to get the job done optimally. Unfortunately, you do not have time to learn the best techniques when time is of essence. Our staff has over 35 years of experience, and we put that to work for you quickly. We have access to the latest in drying technology, ensuring your home has the best chance of being recovered.
A Price You Can Afford
No one plans for water damage to occur, and we understand that you may not be financially prepared for such a disastrous situation. We are here to help alleviate your fears. Our professionals can come to your site to do a thorough inspection, and they can give you an idea of the price range you can expect to help you work the repair costs into your budget. We do feature affordable rates, and we are working with all insurance companies to help keep money in your pocket.
Expedient Service
Our water damage staff understands the urgency in your situation, and we make your phone call a priority. Once you call, you can expect a response within 45 minutes. We understand that water leaks can happen on the weekend, late at night, or on the holidays, and we make ourselves available 24/7 so we are available whenever you may need us.
What You Can Do
While we do not recommend inexperienced homeowners to attempt to complete the repairs without professional help, there are some things that can be done while you wait for our arrival. First, shut off the electricity at the main breaker. You can also remove electrical appliances and furniture from the problem area if this can be done safely.