Water Damage Kitsilano
When your home is affected by a leak, homeowners need to call the water damage Kitsilano techs at 911 Restoration Vancouver immediately so we can begin remediation procedures.
You can literally contact us any time, because we have service agents standing by and available 24/7/365. When you call our water damage Kitsilano experts a representative will get all the details of your situation and get professionals to your home within 45 minutes or less.
By deciding to work with our IICRC certified technicians, you can rest assured knowing that you are hiring a company that specializes in the following services:
Toilet overflow sanitization
Washer hose bursts correction
Mould infestation clean up
Fire sprinkler malfunction restoration

Flooded basement water removal
Our water damage Kitsilano team implements same day service for water based disasters, because through our experience we know that the longer water sits, the more destruction it can do.
So, call us as soon as you noticed an abundance of moisture on your property and we will get the renovations started with a home inspection.
Left Untreated, Water Damage Can Lead To Mould
Along with causing rot, warping and rust, one of the major reasons our staff makes such an effort to help you around the clock is because when moisture is left unmitigated, the greater the chances are that mould will begin to grow.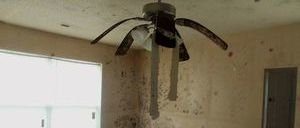 Mould spores do not need much to begin infesting a property. As long as there is water and time, the spores can easily develop into a full blown infestation.
Our water damage Kitsilano agents knows exactly how to eradicate mould from inside your household and keep it out.
We use top of the line gear and comprehensive remediation techniques to remove both the fungus and moisture.
We want nothing more but to keep your house as a healthy living space for you and your family, so call us today to get the help that you deserve.
You Can Trust Us To Guide You Through A Fungus Remediation Job
Our water damage Kitsilano specialists want homeowners to feel a sense of calm once we arrive on the scene. You can trust us to take over the entire situation when we get to your home, because we make it our responsibility to get your home dry and clean after it has been ravaged by invading water.

We fully believe that customer service is key in these types of situations.
Our water damage Kitsilano pros will do whatever it take to give you peace of mind, including assisting you with your insurance policy.
The financial aspect of this whole ordeal can be really overwhelming, but we want you to know that not only do we work with all insurance companies, but we also offer affordable water damage restoration services to all of our customers.
Call our water damage Kitsilano techs at 911 Restoration of Vancouver today, so we can get your home back on track and give you the fresh start you need.