Water Damage and Mould Removal in Langley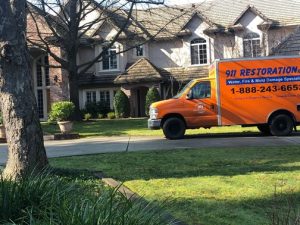 Bring your property back to perfect condition after a flood, sewage backup, or pipe burst in Langley. The help you need to secure a Fresh Start is available from 911 Restoration of Vancouver. You can reach out to our IICRC certified water damage restoration in Langley and mould removal techs 24/7/365 to get help within 45 minutes.
Langley flood cleanup and mould remediation techs at 911 Restoration of Vancouver are licensed, bonded, and insured to help you. Techs have the training and the experience to assist with both commercial and residential flood cleanup and mould decontamination.
Let us develop a personalized plan to restore your property if you have a flooded basement, a sump pump failure, or winter storm damage. Mould removal crews can complete water damage and mould inspection in Langley right now to assess your unique needs.
What Happens During Langley Water Damage Restoration?
Langley water damage restoration service and mould removal in Langley can bring your property back to perfect condition. In order to renovate and repair your property, flood cleanup and mould remediation techs may:
Complete a Water Damage and Mould Inspection

Quarantine Areas of Your Property with Damage

Set Up Pumps to Extract Water

Dry Out Your Property with Dehumidifiers

Repair Structural Damage from the Water

Take Care of Mould Decontamination and Odor Removal
Crews at 911 Restoration of Vancouver will personalize your services to meet your unique needs. Let us provide you with dedicated support if you experienced damage caused by a drain tile backup, a rain water backup, a pipe burst, frozen pipes, or an ice dam.
Techs are trained to handle all aspects of water damage restoration and mould remediation, so you can rest easy as we work to renovate and restore your property, starting the process with a mould inspection.
What Does Mould Remediation in Langley Cost?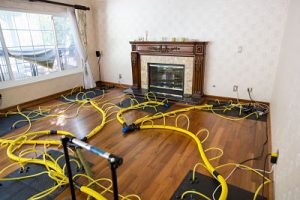 The costs for Langley mould remediation and flood cleanup can vary based upon the type of damage you're facing. Langley mould decontamination crews can provide you with an estimate for costs after they complete your water damage and mould inspection.
Note that, in some cases, your property owner's insurance may cover water damage restoration and mould removal services. Sudden pipe bursts are often covered by insurance. However, you may have a more challenging time securing coverage for a flooded basement, especially if it involved a sewage backup.
The water damage restoration and mould decontamination experts at 911 Restoration of Vancouver can help you go over your insurance policy after a pipe burst, floor, or drain tile backup. We are ready to offer you the help you need to move forward with your life in the Metro Vancouver area, so contact us today.
Servicing the cities of Abbotsford, Aldergrove, Arbutus Ridge, Burnaby, Coal Harbour, Cloverdale, Coquitlam, Deep Cove, Delta, Downtown, East Bay, East Side, East Vancouver, Gastown, Langley, Kerrisdale, Kitsilano, Ladner, Maple Ridge, Marpole, Mitchell Island, Mt. Pleasant, New Westminster, Newton, North Burnaby, North Vancouver, Point Grey, Port Coquitlam, Port Moody, Richmond, Santa Paula, Shaughnessy, South Vancouver, Steveston, Sunset, Surrey, Tsawwassen, Vancouver, Westchester, Westham Island, West Point Grey, West Vancouver, White Rock, Yaletown… and surrounding areas.