Water Damage Restoration in Arbutus Ridge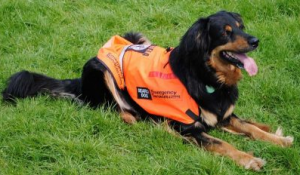 As a property owner in Arbutus Ridge, you're aware of the many benefits that ownership brings you. Ownership also brings you a number of responsibilities. One of the most important ones is to take care of any property damage that comes up. While this can happen in many ways, the most common one to look out for is water damage. Anything from a ceiling leak to a pipe burst can cause water damage. This forces owners to seek professional water damage restoration services. That's why our IICRC certified technicians are ready 24/7/365 to begin working on any mould remediation or water damage restoration needed by our Arbutus Ridge customers. Whether you live in Arbutus Ridge, West Vancouver, Kitsilano, or another city in the Vancouver area, we guarantee our arrival in 45 minutes to begin working on your water damage restoration.
It only takes 24 hours for water damage to begin producing mould, which leads to additional problems for property owners. As owners delay in getting water damage restoration services, they become more likely to need additional mould removal services. You can avoid this problem by making sure to start your water damage restoration promptly. Doing so can save you a headache now and in the future.
As soon as you need mould remediation or water damage restoration call 911 Restoration. Our technicians can handle anything from mould inspection to flood cleanup. Call today to get the Fresh Start you need to move forward in Arbutus Ridge and surrounding Vancouver area.
Water Damage Restoration
Water damage restoration is a complex process that needs to be handled quickly, but more importantly, needs to be handled correctly. Correctly handling your water restoration is the key to preventing further complications. That's why working with IICRC certified technicians like the ones at 911 Restoration is the recommended course of action. Thanks to ongoing training and years of experience, our technicians have honed their water damage restoration process to perfection. No matter what the problem is, we have you taken care of from flood cleanup to pipe burst.
We don't unload a single piece of equipment until we have performed our visual inspection. This step is necessary to make sure we fully understand the extent of the water damage, if mould is already present, and what repairs are needed to restore the property to good as new. After the inspection is completed, we can get to work on our water extraction and drying process. This step is performed using the latest water extraction equipment and commercial dryers to completely dry the property out from top to bottom.
We don't consider the job done until all damage is addressed. As part of our comprehensive approach, we take the time to repair the source of the water damage to prevent it from happening again. In addition, we also take care of any other repairs needed to restore the property to good as new such as sheetrock installation. 
If you suspect or notice water damage or mould, call 911 Restoration. We'll arrive in 45 minutes to begin on your mould remediation and water damage restoration. Don't wait to get the Fresh Start you need to begin anew in Arbutus Ridge.
Flood Damage Restoration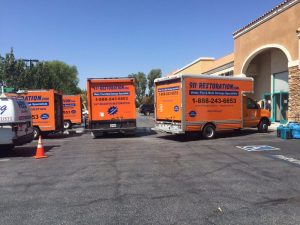 Flood damage restoration is a process that's used when regular water damage restoration efforts aren't capable of finishing the job. Flooding usually occurs due to the sprinklers firing or a pipe burst, which is why a flooded basement is the usual suspect when flooding is involved. When this happens, you need nothing less than flood cleanup. Flood cleanup is a modified version of water damage restoration. The modified version addresses the higher water levels along with the contaminants present whether they be dirt or raw waste.
The first step during the flood cleanup process is our combination of decontamination and mould decontamination. During this process, all traces of bacteria and mould are neutralized and rendered safe for removal. After completing this step, we can begin the water extraction and drying process followed by repair work to get the property back to good as new.
Call 911 Restoration as soon as you're aware of the need for emergency restoration services. Get the Fresh Start you need to start over in Arbutus Ridge.
Servicing the cities of Abbotsford, Aldergrove, Arbutus Ridge, Burnaby, Cloverdale, Coal Harbour, Coquitlam, Deep Cove, Delta, Downtown, East Bay, East Side, East Vancouver, Gastown, Kerrisdale, Kitsilano, Ladner, Langley, Maple Ridge, Marpole, Mitchell Island, Mt Pleasant, New Westminster, Newton, North Burnaby, North Vancouver, Point Grey, Port Coquitlam, Port Moody, Richmond, Santa Paula, Shaughnessy, South Vancouver, Steveston, Sunset, Surrey, Tsawwassen, Vancouver, West Point Grey, West Vancouver, Westchester, Westham Island, White Rock, Yaletown, and surrounding areas.